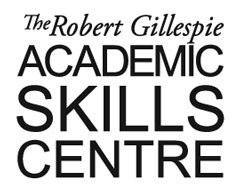 The Robert Gillespie Academic Skills Centre (RGASC)
The RGASC runs year-round, academic and professional skills workshops to further your career development. These workshops range from developing your skills in presentation making, grant writing, web design and TAing. To see their full range of workshops visit the RGASC website for TAs and grad students.
RGASC and Graduate Professional and Academic Skills (GPAS) Courses
NEW this year, the RGASC is offering GPAS courses tailored to fit the individual needs of graduate students and post-docs. Check them out at the GPAS website!
Venture
Not sure what life after grad school holds for you? No matter what your program of study is, Venture has the answer!                                                   

Venture's Graduate Mentorship Program (GMP) connects grads with successful mentors currently working in the industry. In addition to the GMP, Venture offers professional networking events and workshops, as well as access to exciting seminars hosted by the Institute of Management and Innovation (IMI). Check out all that Venture has to offer by visiting their website, and sign up by emailing info@venture-connections.ca.