Hey UTM Grad Students!
You're invited to join us at the annual UTMAGS Holiday Event on Wednesday, December 15th from 5:00 to 6:30 pm
Please join our virtual event for some fun games including Trivia, an Ugly Sweater Competition and a raffle, where winners will have the chance to win prizes like a PS5, AirPods, Amazon gift cards, and much more!! 
Here is the Event Brite link to get your tickets: https://www.eventbrite.ca/e/utmags-holiday-trivia-tickets-223077018367
Here is the Zoom information: https://utoronto.zoom.us/j/86939776862; Meeting ID: 869 3977 6862; Passcode: SNOW
Please continue reading below to find out how to win some of our great prizes!!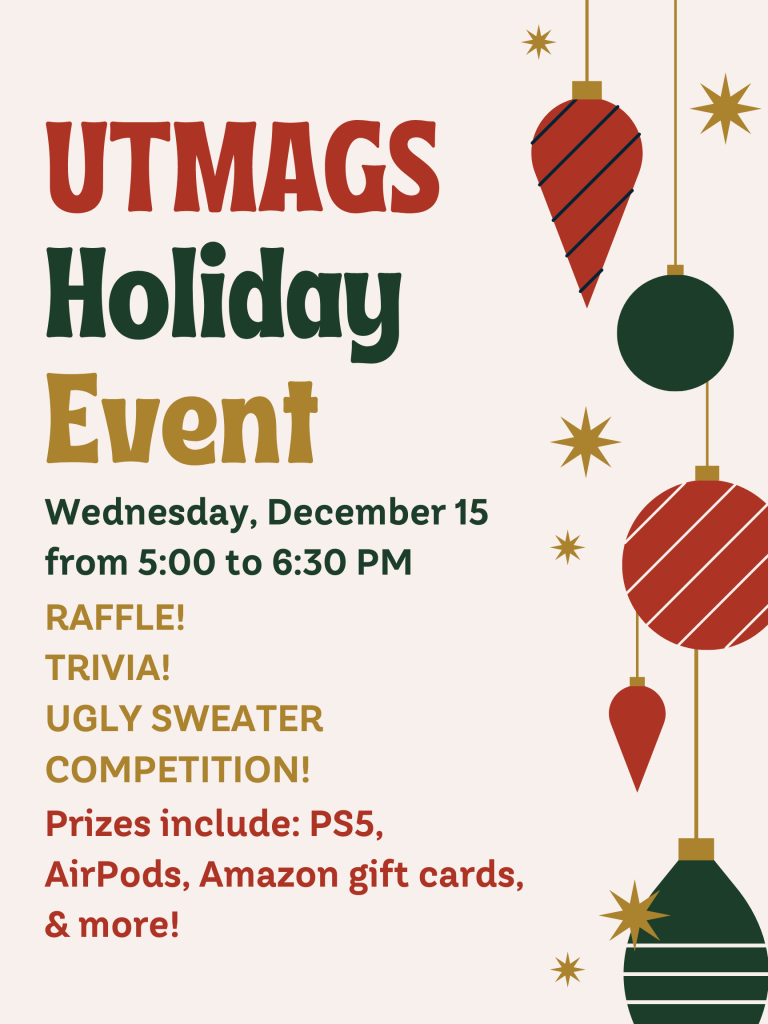 *** UGLY CHRISTMAS SWEATER COMPETITION ***
The Ugly Christmas Sweater competition will have prizes for the 1st place, 2nd place, and 3rd place winners! You must email us (utmags.utm@gmail.com) a picture of yourself in your favourite ugly Christmas sweater by Tuesday, December 14th, 11:59 pm!
Ugly Christmas Sweater prizes include:
1st place: $60 Amazon gift card
2nd place: $40 Amazon gift card
3rd place: $30 Amazon gift card
*** RAFFLE TICKETS ***
Raffle tickets are $0.50 each and you can buy them here: https://rafflecreator.com/pages/54165/utmags-holiday-raffle
Raffle prizes include: ZERO WASTE KIT, FITBIT, BLUETOOTH SPEAKERS, AIRPODS, NINTENDO SWITCH, IPAD MINI, PS5
*** TRIVIA ***
Trivia rules will be explained at the beginning of the event before we get started. We will have 10 rounds of trivia with 8 questions each and a different topic for every round – anything from TV, sports, holidays, and more! The top 3 winners of each round will receive a $25, $20, $15 Amazon gift cards. That's 30 prizes altogether — $600 dollars in giftcards!!! Please note that there is a limit of 3 prizes per student so more people can try to win.