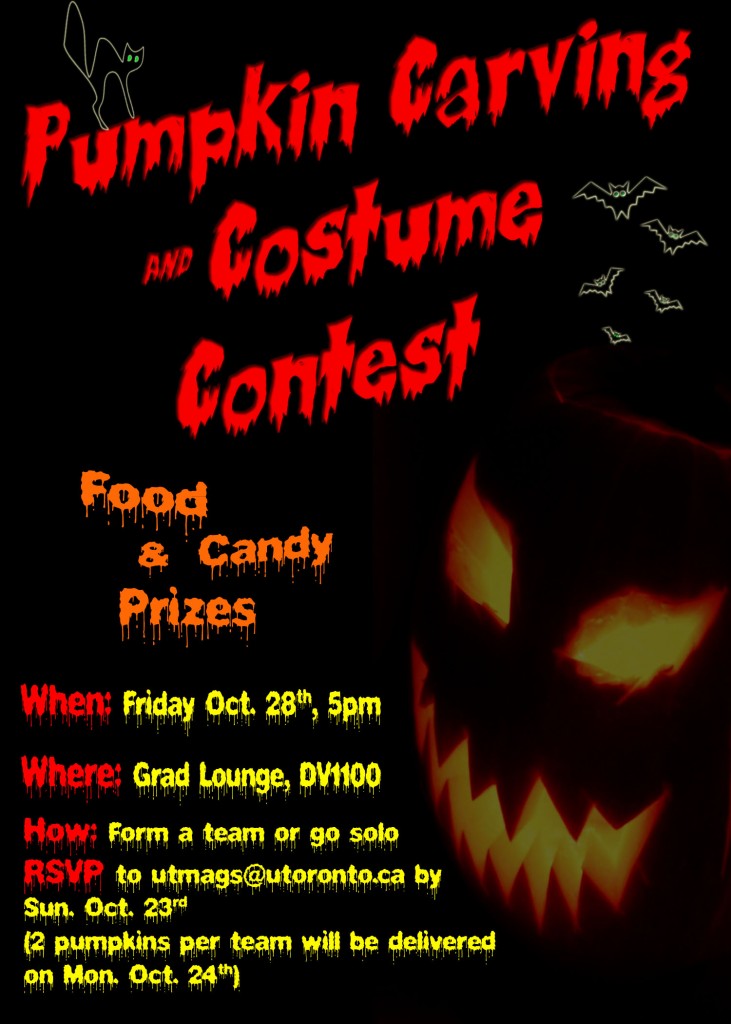 Welcome back to the UTMAGS Weekly Newsletter!
Only about 25% of all of the graduate students at UTM are signed up for this listserv, so get your labmates/classmates signed up! Just have them send a message to utmags@utoronto.ca with the subject line "Listserv", and we'll add them to the list!
Let's see here….
**Events**
We have LOTS of events coming up, including…
*Halloween Haunt at Canada's Wonderland*
– Tickets are $15 each and are yours to use during any Halloween Haunt day (Cheap tickets, yay!).
– A minimum of 20 must be sold so please RSVP to utmags@utoronto.ca by Sunday, October 23rd.

*Pumpkin Carving Contest*
– Draw your blades people and battle it out with our pumpkin carving contest.
– Form teams or go solo and show off your jack-o-lanterns at UTMAGS' Halloween Party (Details below).
– To enter RSVP to utmags@utoronto.ca by Sunday, October 23rd.
– Each team gets 2 pumpkins. Pumpkins will be delivered on Monday, October 24th.
– PRIZES!!! The winner gets a $20 gift card to Pizza Pizza.

*UTMAGS Halloween Party*
– Free food*, free candy, cool pumpkin-carving and costume contests!
– When: Friday, October 28th, 5pm.
– Where: Grad Lounge, DB1100.
– PRIZES!!! $20 to Pizza Pizza for the pumpkin contest, and $20 to Starbucks for costume winners.
*In exchange for free food, candy and fun, UTMAGS will collect donations of 2 canned food items or $2/student for the United Way.

*Paintball*
– Shoot your lab mates with little pellets of paint on November 4th (we know you want to…)
– 24 spots are available for $5 each, so hurry and RSVP to utmags@utoronto.ca.
– We will be organizing carpooling from campus, leaving at 5pm. Need a ride? Let us know!

*Awesome Trivia Night*
– Week of November 17th.
– Form a team and show off your nerd skills (and your ridiculous amount of pop culture knowledge)
– There will be FOOD, and PRIZES! (More details to come…)

*Laser Tag*
– December 2nd.
– Shooting beams of lasers at each other. Need we say more?
– RSVP to utmags@utoronto.ca.
Cheers!
UTMAGS
Fun fact of the week: In 1675, the King of England banned coffee houses, claiming they were places where people met to conspire against him.
(fact stolen from the hilarious Matthew Inman of theoatmeal.com)