We are excited to announce that we will be hosting a preliminary heat to the Three Minute Thesis (3MT) competition virtually on Wednesday, December 16 at 2:00 p.m. The event is open to all graduate students and post-doctoral fellows from all departments, faculties and graduate programs to present their research in a short competition.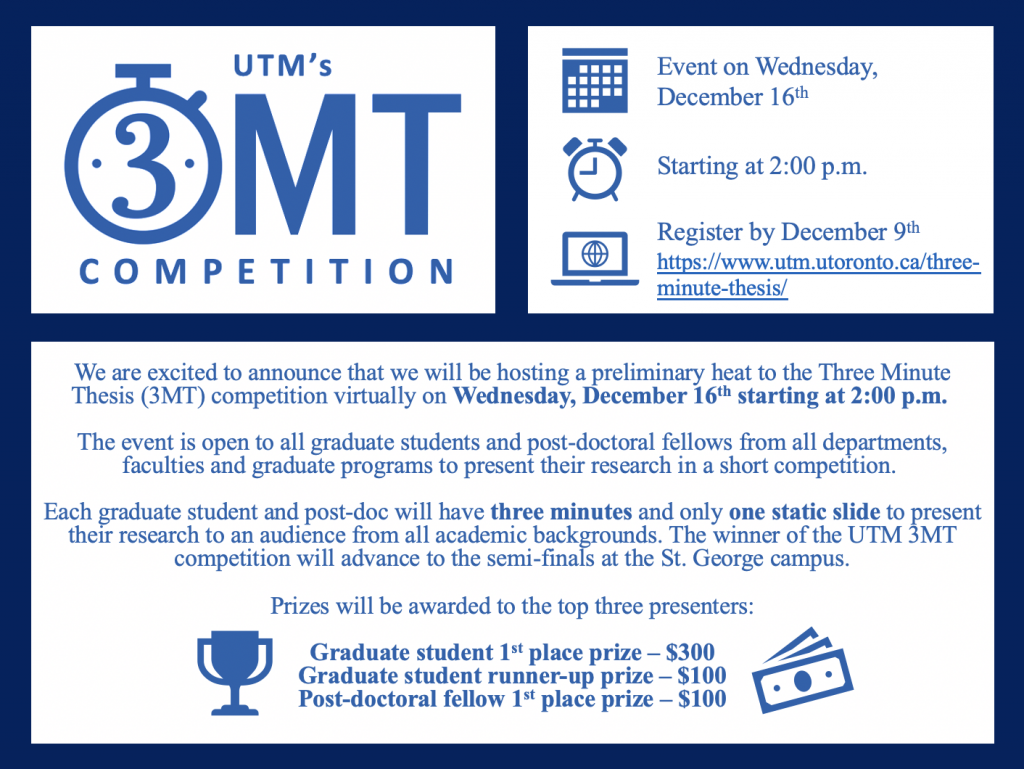 Each graduate student and post-doc will have three minutes and only one static slide to present their research to an audience from all academic backgrounds. The winner of the UTM 3MT competition will advance to the semi-finals at the St. George campus.
Prizes will be awarded to the top three presenters:
Graduate student 1st place prize – $300
Graduate student runner-up prize – $100
Post-doctoral fellow 1st place prize – $100
We encourage all graduate students and post-docs to participate, earn valuable experience and add on to their CVs.
Registration and details of the 3MT can be accessed via this link: https://lnkd.in/dRaXhSx
*** Register by Wednesday, December 9, 2020 ***
Once you have registered, we will send out detailed rules for the competition, but you can check out the 3MT site for more information: https://lnkd.in/d9Nm3YH
We hope to see you all there!