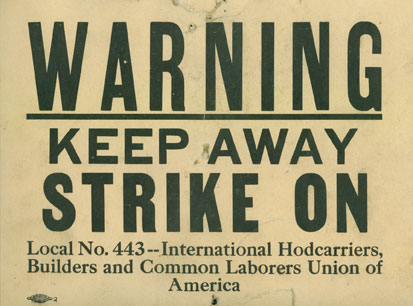 Hello everyone,
This is a brief but very important message from CUPE 3902 and UTMAGS:
1) At tonight's General Meeting the CUPE 3902 membership voted yes to go on strike starting February 24th if the university does not come back to union with a better collective agreement.
2) CUPE 3902 will be holding a meeting at UTM this Thursday, February 2nd from 12-1pm in IB 245. We hope that all UTM TA's attend if possible. Please RSVP to utmags@utoronto.ca so we can have an accurate count for lunch.
Below is a message from CUPE 3902 concerning the meeting. Thanks, and we hope that you can all make it to the meeting Thursday.
Dear UTM TAs and educational workers,
As you are no doubt aware, CUPE3902, your union representing educational workers at UTM, UTSC and St. George, and the university administration have been bargaining over a new collective agreement.  Several weeks ago, the university administration filed for conciliation with the Provincial Government.  With this stage of the bargaining process complete, a lock out or strike situation, though still not imminent, is increasingly likely.
This Thursday, February 2, 12-1pm, there will be a Strike/Bargaining Info Session for members based at UTM campus in IB 245 (Instructional Centre, by UTM Shuttle drop off).  All members are encouraged to attend.  Lunch and refreshments will be provided.  Please RSVP with any dietary restrictions.
At the Info Session, your UTM steward, UTM Strike Coordinator and a member of the bargaining team will be available to discuss questions related to:
-what are the sticking points in negotiations?
-what are the merits of the university's offer (if there is one to present to the membership)?
-what will a strike look like at UTM?
-will a strike affect my ability to complete my research?
-what counts as strike breaking?
-what can I do to help (and receive strike pay)?
-what is the history of strikes at U of T?
I hope to see all of you there, and I look forward to meeting you.  If you cannot make the meeting, feel free to email me any questions/concerns you have and I will try to get the answers for you at the meeting.
Best,
Troy Lundblad
UTM Steward, CUPE3902